Register Now
FlyPakistan

Book Best Hotels in Pakistan || Attractions in Pakistan

Pakistan's First Online Hotel Booking Platform

FlyPakistan is an online Destination Management Company offering all sort of Ground Handling Services in Pakistan including FIT Hotel Bookings, Group Tours, Fixed Departures Tours, Schools / Colleges & Universities Educational & Leisure Tours, Rent A Car, Tour Guides, Conferences & Events Etc.
Fly Pakistan Online Hotel Booking Portal www.flypakistan.pk is featured with over direct contracted rates with more than 1500 Hotels over 45 cities in Pakistan. Best negotiated low rates & instant confirmation of hotel booking with 24 hours customer support this portal unique and its rapidly attracting Tourists, Corporate houses & online Users.
Fly Pakistan is a Part of Athar Majeed Group & subsidiary company to Travelocity Pakistan (IATA Certified) having 20 years' Experience in Domestic & International Tourism. Our Experienced & Professional Team is determined to help its esteemed customers always aiming to achieve maximum satisfaction of clients.
How to Book On FlyPakistan
Put in city name in Destination Search box and select city from instant search results auto generated.
Select Check-in &Check-out dates , Select no of adults or child , Hotel name is optional.
Then click on search and you will find the available hotel options with prices.
Book Hotels in Pakistan
FlyPakistan.pk is pakistan's first worldwide online hotel booking website for Pakistani tourists traveling abroad, managed and owned by Travelocity Pakistan.
Now travellers can book their hotels at any international destination with much more convenience. The website is featured with multiple payment options, credit card is not necessarily required, the travellers can pay their hotels bookings in form of cash, credit card, online booking & by cheques etc
Book Cheap Hotels in Pakistan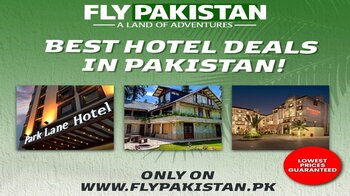 We prefer that all cancellations and amendments are made on the flyPakistan.pk website. Alternatively you can contact the flyPakistan.pk Reservation Team via e-mail or fax before the cancellation deadline for that specific booking/hotel.
While flyPakistan.pk strives to present hotel information as accurately as possible, we are not responsible for the accuracy of this information or for any facilities that may or may not be available at the hotel during your client's stay or not suited to your client's individual tastes and preferences.
Redecoration/ renovations and maintenance are necessary to the upkeep of the hotel and may take place without prior warning, however the hotelier will endeavour to keep inconvenience to a minimum.